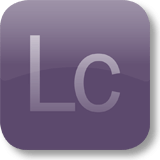 Building Trust
Sometimes the most important aspect of a system is the one you don't see. Making sure the infrastructure is installed correctly from the beginning helps ensure that there will be no problems later. You can feel confident that an experienced, well-trained crew is on your job, from beginning to end.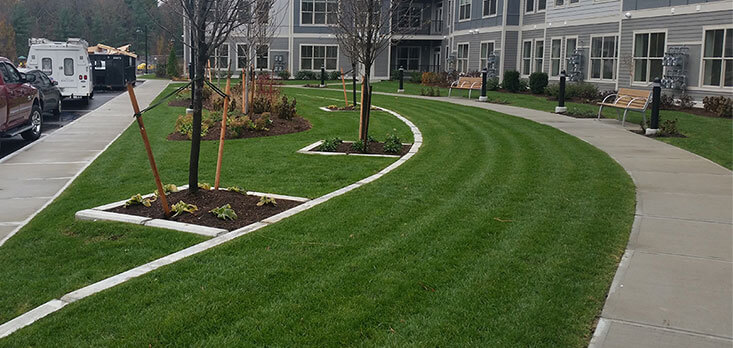 Greener Group purchases plant materials directly from the grower. Purchasing is done up and down the entire east coast, obtaining the appropriate plants at the best price, and passing the savings on to the customer. Our design-build process helps us create a true collaboration with our customers. We assess the project objectives, create a strategy within the budget, and implement every aspect of the landscape construction with equal commitment and attention to detail, from start to finish.
New Installation
We know that new installation of plants and trees can be the most costly aspect of the job. Our bulk buying power and ability to stock over $200,000 worth of inventory at our headquarters allows us to provide the most competitive bids, and pass the savings on to our customers. And choosing just the right plantings for the climate and soil conditions are important to the health and appearance of your landscape.
Irrigation Installation
Installing an irrigation system right the first time is critical to its performance and lifespan. We can install a 5 gpm backyard irrigation system or a 500 gpm golf course system. No matter what scale system you need, quality and expertise are necessary to avoid problems that could be costly later. Planning and precision can also help ensure that your water usage is more sustainable, a benefit that is both good for the environment, and your budget.
Garden Structures
Structures like trellises and arbors add another element to an already beautiful landscape. These elegant forms are simple, easily maintained and create harmony and integration with the surrounding environment.
Water Features
Nothing is more tranquil and peaceful than water. From a rooftop water feature, small ponds, fountains and waterfalls, our installers are true experts from design to implementation. The sight and sound of water can add a unique and timeless experience to your environment.
Landscape Lighting
Lighting is often the final touch that compliments a great design. The right decision and choice of fixtures is the key to lighting. Elements such as up-lighting, accents, and path lights will not only add drama to your landscape but can provide a safer way home.
Design Services
Whether it's residential or commercial projects, our seasonal designers are true experts. They demonstrate their creativity from start to finish, delivering the best design to fit your needs while always being conscious of your style, taste and budget.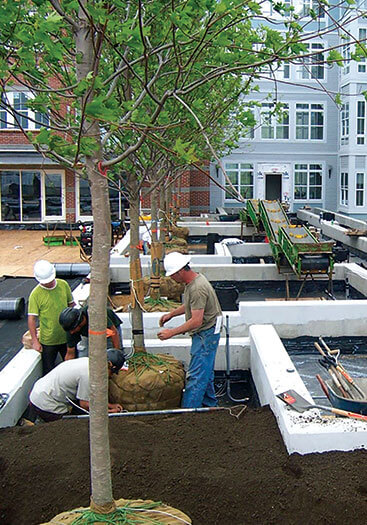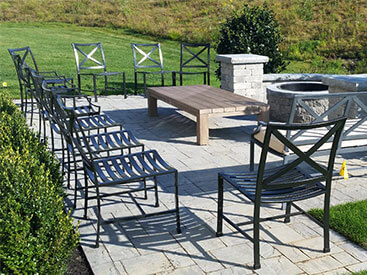 Additional landscape construction services include:
Bio plantings

Rooftop gardens

Sodding

Hydroseeding

Drainage systems

Erosion controls

Trellises and arbors

Wood, chain link, and vinyl fencing

Modular wall systems

Pond, fountain and waterfall construction